Tips for the journey into the Lower Engadine.
Many roads lead to Scuol.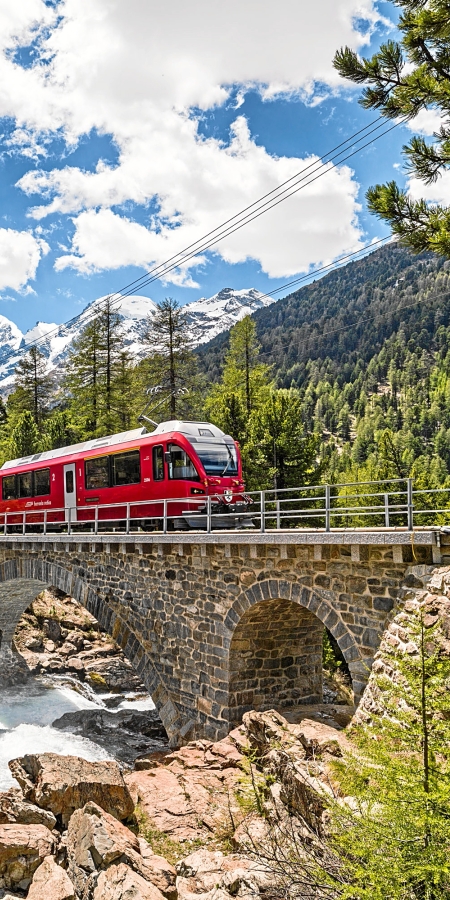 No matter how you're planning to travel to Scuol, our useful directions will help make your journey as easy as possible.
Scuol is located in the tri-border region of Graubünden and can easily be reached by car. Plan your journey with this convenient route planner before you leave home to find the shortest and fastest route.
The Vereina car transporter train is the fastest way to get from Prättigau to Engadin and it's also the easiest option in winter when the roads may be slippery. The Rhätische Bahn railway will deliver you safely and reliably to your destination.
The Swiss Federal Railways (SBB) timetable will show you the easiest way to reach your holiday destination in Graubünden using public transport. Please note that it is necessary to reserve a seat on some trains.
Every hour, a train from the Upper Engadin and a train from Disentis arrive at Scuol-Tarasp station. In Landquart you can catch a connecting train to Zurich or St. Gallen. From Scuol-Tarasp train station, simply take a bus to the bus stop Scuol, Bogn Engiadina.
The train is the most relaxing way to travel to Graubünden. Board a train in Germany and enjoy the picturesque journey south to Switzerland. The close collaboration between the German Railways (DB) and the Swiss Federal Railways (SBB) ensures you will have seamless connections all the way to Graubünden and Scuol.
Luggage and ski transport
The SBB and RhB (Rhätische Bahn railway) both give passengers the option of having their luggage and skis transported from their point of departure all the way to their hotel.
Many airlines fly to Zurich Airport, as it is one of Europe's major airports. It is also well connected to the Swiss public transport network, which guarantees you can look forward to a seamless onward journey to Graubünden. There are also other airports in and around Graubünden, such as Friedrichshafen (Germany), Innsbruck (Austria), St. Gallen-Altenrhein, Basel and even Samedan Airport, which is located in St. Moritz at an altitude of 1,707 m above sea level.
Transfer from the airport
In addition to the shuttle buses described below and the Graubünden Express train, the various airports are also connected by trains of the Swiss Federal Railway (SBB). Within the Graubünden region, there is also the exclusive Rhätische Bahn railway or the Postbus that both depart from Chur.