Welcome to paradise.
Our sauna area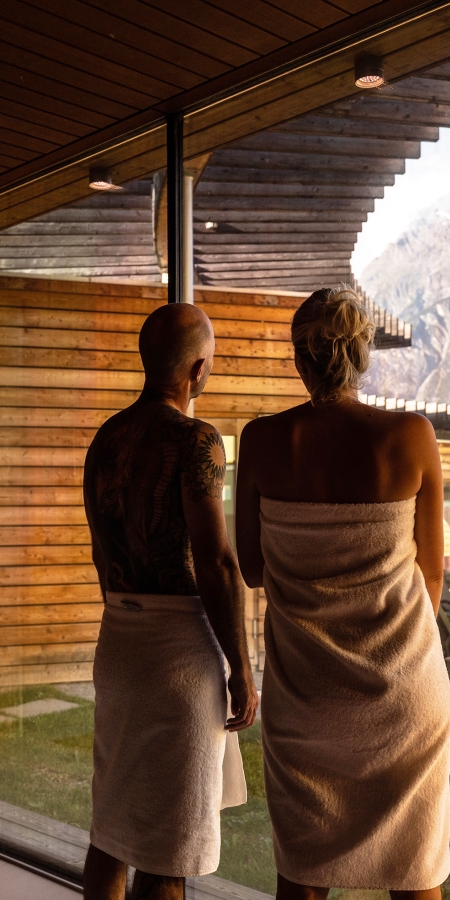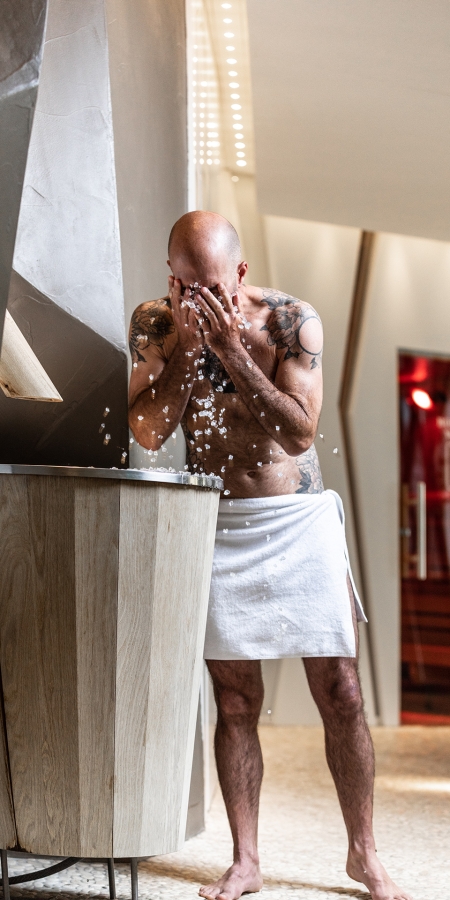 A visit to our sauna area is like a little trip to paradise.
Whether you like it warm or hot, with lots of steam or aromatic infusions, Bogn Engiadina has just what you're looking for and more. There is even a special women-only sauna morning once a week. After sweating it out, we recommend cooling off with our ice fountain, plunge pool, waterfall wall, shower grotto or cold outdoor pool. But remember: when we say cold, we mean it! In between saunas you can enjoy panoramic views from our chill-out cabin, relax on the sunbathing lawn or stroll along the colonnade, where you can sample mineral water from a variety of local springs. That's the Bogn Engiadina difference.
Important information
The entire sauna area is a clothing-free zone and is designed for people aged 18 years and older.
There are special sauna times for children up to 18 years accompanied by an adult.
Photography and filming is prohibited throughout the entire sauna area.
| | |
| --- | --- |
| Finnish sauna with aromatic infusions | ~ 90°C |
| Fireplace sauna with decorative fireplace | ~ 85°C |
| Women's sauna (with automatic infusions) | ~ 80°C |
| Steam room | ~ 42°C, 100 % humidity |
| Mild sauna | ~ 60°C, 60 % humidity |
| Outdoor pool | 15 bis 25°C, depending on the season – 26.5 m2 – 33 m3 – Tiefe 123 cm |
| Indoor pool | ~ 16°C – 4.5 m2 – 4 m3 – Tiefe 120 cm |
| Outdoor sunbathing lawn with panoramic view | |
| Relaxation rooms on the first floor | |
| Chill-out cabin with panoramic view | |
| Waterfall wall and selection of showers | |
| Colonnade with two mineral water fountains | Spring water: Sotsass und Vi |
| Ice fountain | |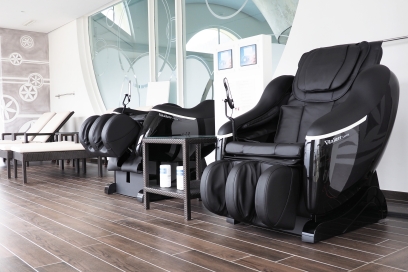 The Vitalizer Luxury massage chair
Already tried it?
The Vitalizer Luxury was developed in close cooperation with doctors to meet the highest health standards. It is an innovative product that relieves everyday ailments such as stress, back pain and tension. The two massage chairs are in the relaxation room on the 1st floor. You can conveniently book the massage via your chip bracelet. There are six different programmes to choose from. 15 minutes costs CHF 15.00.
Take advantage of our special offers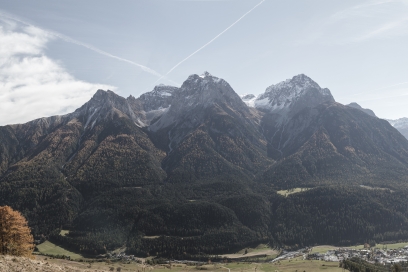 Bainesser genuin.
The exclusive care products of the Bogn Engiadina.
In our online shop you can order the care products of the Bainesser genuin line.