Our Roman-Irish bathhouse combines the health benefits of Roman bathing culture with classic Irish bathing traditions. Based on ancient bathing rituals, this modern wellness experience has a calming and relaxing effect on the body, strengthens your immune system and brightens your soul.
We are beautifying our bathing area for you. To this end, we will be closing our facilities from 19 April. From Ascension Thursday, 26 May, we will offer partial operation again.
Rest and relaxation
Make sure to give yourself plenty of time for your visit to the Roman-Irish bathhouse. The circuit takes around 3.5 hours to complete, however its benefits for your body and soul are equivalent to a short holiday. The experience will stimulate your circulatory system, purge your body and strengthen your immune system. The humid warmth of the steam penetrates deep into your lungs and improves the circulation in your respiratory system. This is particularly advantageous during the cold months of the year when we're more susceptible to viruses.
Your personal wellness temple
We only admit two guests at a time and the circuit in the Roman-Irish bathhouse is designed in such a way that you will only occasionally encounter other visitors. So Bogn Engiadina essentially becomes your own private health spa. We only increase the number of guests to four people during the festive season from 26 December until the first weekend of the new year.
The Roman-Irish bathhouse is open daily. Information regarding the opening hours and available appointments is provided during the online reservation process. Alternatively you can call +41 81 861 26 00.
The Roman-Irish bathhouse will open after the renovation on 25 June. Bookings are possible again from the end of May.
| | |
| --- | --- |
| Single ticket, up to 3.5 hours | CHF 60.00 |
| Single ticket, up to 3.5 hours including a day ticket for the bathing and sauna areas | CHF 82.00 |
| | |
| --- | --- |
| Half yearly ticket without bathing and sauna facilities | CHF 660.00 |
| Half yearly ticket including bathing and sauna facilities | CHF 990.00 |
| Annual ticket without bathing and sauna facilities | CHF 1190.00 |
| Annual ticket including bathing and sauna facilities | CHF 1780.00 |
The entire Roman-Irish bathhouse is a clothing-free zone and is designed for people aged 18 years and older.
Please bring your own swimsuit or towel. You will receive a toga (towel) and slippers at the entrance of the Roman-Irish bathhouse. However you'll need to wear a swimsuit or your own towel as you walk from the changing rooms to the entrance and waiting area.
Please come to the Bogn Engiadina reception at least 15 minutes before your scheduled time slot.
If you are paying with a gift voucher, you must present the original gift voucher at reception.
Swimsuits and towels can be rented at reception (a deposit is required).
Photography and filming is prohibited throughout the entire facility.
This rejuvenating and luxurious bathing tradition encompasses 10 stations for health and well-being. Your body will be slowly warmed, encouraged to sweat and purge, before being gently cooled to a state of utter relaxation. Afterwards, you can enjoy high-quality tea as you moisturise your body using our exclusive and natural body lotion, before retiring to the relaxation room to wrap yourself in thick, soft towels and enjoy a stunning view of the surrounding Alps. To finish it all off, we serve you a small yet exquisite selection of regional Swiss delicacies.
| | |
| --- | --- |
| Reception | |
| Shower using soap | |
| Mild sauna | ~ 54° C |
| Hot sauna | ~ 70° C |
| Shower | |
| Massage of choice | |
| Shower | |
| Steam room I | ~ 38° C |
| Steam room II | ~ 42° C |
| Shower | |
| Mineral water jacuzzi | ~ 36° C, 13 m3, 26.5 m2, depth 57 cm |
| Mineral water pool | ~ 33° C, 23 m3 , 29.5 m2, depth 131 cm |
| Cold water pool | ~ 18° C, 7 m3, 7.5 m2, depth 123 cm |
| Shower | |
| Tea break and moisturisation | |
| Rest and relaxation | |
| Finish | |
Choice of three different massages
Take advantage of our special offers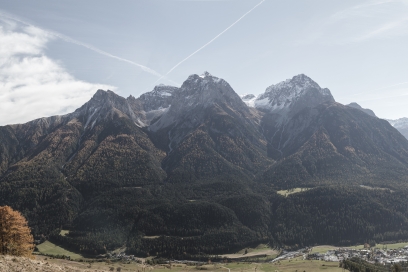 Bainesser genuin.
The exclusive care products of the Bogn Engiadina.
In our online shop you can order the care products of the Bainesser genuin line.