Authentic sauna experience.
Our professionals know how to do it.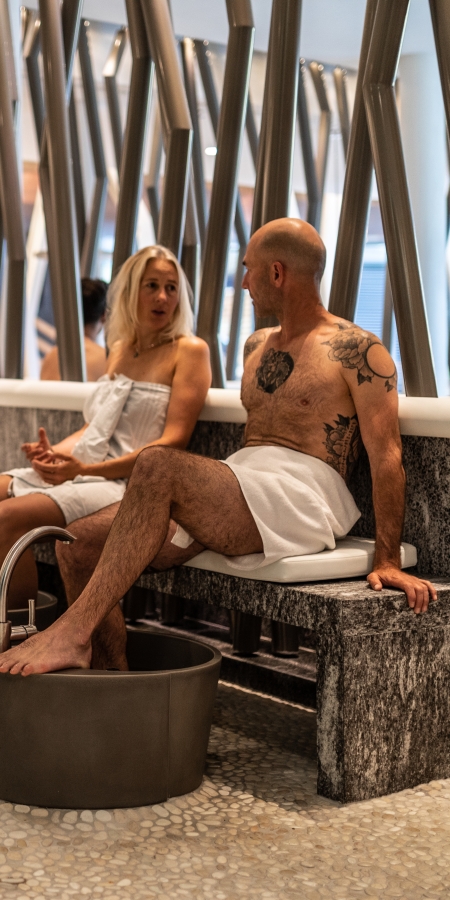 At Bogn Engiadina, you'll be spoilt for choice – every day we offer more than twenty infusions and special infusions with creams. Allow us to introduce our golden rules for enjoying an authentic sauna. These handy tips are particularly helpful for those new to sauna culture, as they ensure guests reap as many positive health benefits from the experience as possible.
The sauna master distributes the heat with the aid of towels and fans, and selects just the right background music to suit the mood. Guests can sit back and relax as their pores are cleansed and their skin is rejuvenated. Lounges are available outside, so you can take advantage of the fresh mountain air and fill your lungs with oxygen after each sauna session, before cooling off in the showers and plunge pool. Andri König, head of the bathing and sauna areas, recommends a warm foot bath afterwards to fully balance your body's temperature.
Award-winning expertise
Bogn Engiadina's two sauna masters, Thomas Rohner and Ursina Semadeni, are experts in sauna culture and the art of infusion. They both finished in second place in the individual and team infusion categories at the Swiss Infusion Championship, earning a spot in the World Championship in the Netherlands. Thanks to their expertise, guests who visit the sauna at Bogn Engiadina can look forward to an unforgettable sauna experience.
Relax and enjoy
When you follow these golden rules, you can make the most of the sauna's positive health effects. For instance, before you enter the sauna it is advisable to dry yourself well after your shower, because skin sweats faster when it's dry. Rohner recommends not drinking anything while you're inside the sauna, as this will greatly minimise the purging effect. So after the sauna, it's all the more important to drink plenty of fluids and rehydrate your body. «You shouldn't exercise after visiting a sauna,» explains Rohner, «so that you can maintain the positive effects and avoid any adverse reactions with your circulatory system.» Instead, it's a good idea to enjoy the panoramic view of the surrounding mountains from the calm of the chill-out cabin or the sunbathing lawn, or to treat yourself to a massage.