Let yourself be pampered.
Our wellness centre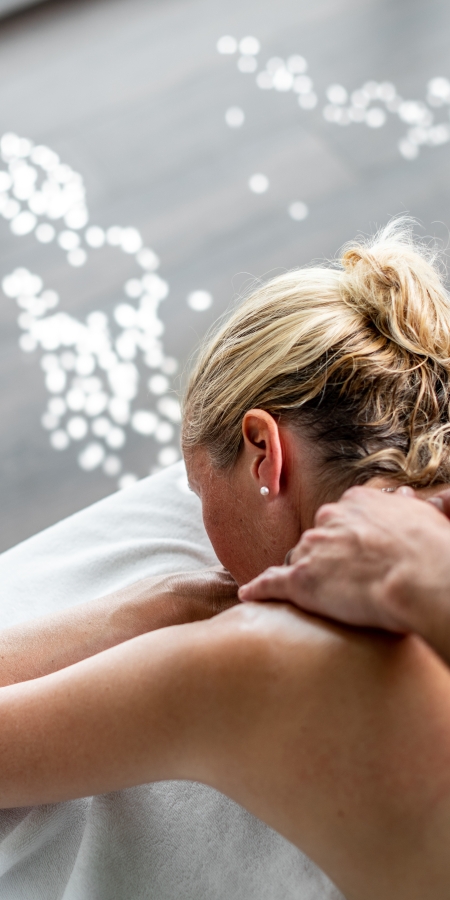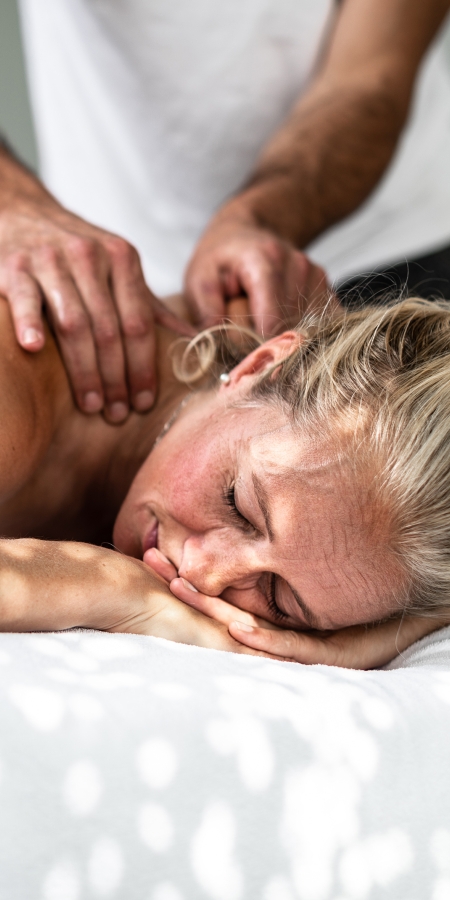 Sauna and swimming are just the beginning. At Bogn Engiadina you also have the opportunity to treat yourself to a range of luxurious wellness procedures. No matter which one you choose, you can always look forward to individually tailored advice and professional service. Our wellness treatments are only available by appointment, you can book your appointment online or by phone. These services are not covered by basic Swiss health insurance. Please contact your health insurance company for more information.
How to reach us
Bogn Engiadina Scuol SA
Via dals Bogns 323
CH-7550 Scuol
Tel +41 81 861 26 00
bad@cseb.ch
The range of our wellness treatments
Classic massages
The classic massage is soothing and releases muscle tension. This manual procedure has been used since ancient times, primarily to prevent and treat problems with the musculoskeletal system.
Foot reflexology massages
The foot reflexology massage is a particular type of reflexology massage that treats special reflex areas in the feet to increase a person's capacity for self-healing and to balance their basic regulatory systems.
Breuss spinal massage
The Breuss massage is a gentle, sensitive massage of the spine column. As an energetic manual back massage, it can relieve emotional, energetic and physical blockages and is ideal for relaxing muscle tension.
Aromatherapy massages
The aromatherapy massage is a soothing massage involving essential oils and local Swiss essences. The soft touch of the masseuse and the delicate fragrances will help you relax and unwind. Treat yourself to pure indulgence.
Pine vitality massage
During the pine vitality massage warmed sticks of various sizes are used and to induce a high level of relaxation a pine massage milk (arnica or honey) is applied. Both the warmth of the pine sticks and the pine massage milk penetrate deeply into the muscular layers and improve circulation throughout the entire body, stimulate the energy flow and ease muscle tension and blockages.
Carbonated mineral water bath
Healing springs are natural springs that produce mineral water with a scientifically recognised healing effect as a result of their particular chemical or physical properties. Mineral water's specific qualities are especially useful in the fields of rheumatology, physical medicine and medical rehabilitation. It is an important component of various therapies, because it can be applied in a gentle way with very few side-effects.
Hay bath
Hay flowers are flowers from various grasses. A hay bath is an old home remedy that promotes circulation, reduces pain and is soothing and relaxing.
Manual lymphatic drainage
Lymphatic drainage is a manual technique for treating oedema. Oedema is a swelling of the tissue due to fluid and lymph accumulation, usually in the arms or legs. Lymphatic drainage of the affected areas of the body removes the accumulated fluids and the swelling goes down. This can be supported by compression bandages.
Acupuncture Meridian Massage (AMM)*
Acupuncture meridian massage is an energetic form of treatment that combines Western and Eastern thinking. The focus is on the 5000-year-old knowledge of traditional Chinese medicine and its acupuncture teachings. While acupuncture specifically treats individual points with needles, AMM works without needles and thus "without blood". At the same time, not only the individual points but the entire meridian course is treated with a special metal rod.
Therapy center Bogn Engiadina Scuol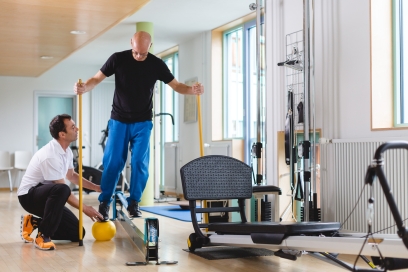 Individual treatment and advice
Our comprehensive range of therapeutic services provides individualised outpatient rehabilitation. Alongside physiotherapy and physical medicine, we also offer complementary medicine, specialised training and relaxation therapies. Our reception team will let you know which treatments require a referral from a doctor. Your personalised treatment plan will be drawn up on the basis of prior medical examinations and your medical requirements. The therapy centre is a federally approved health spa and thereby recognised by health insurance companies as a medical facility.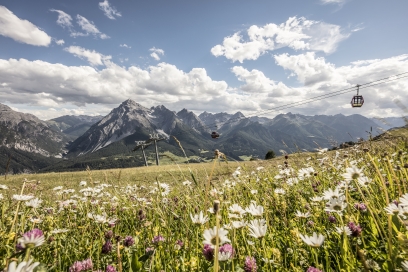 Wellness Destination Scuol
Health holidays in the National Park region
The first Swiss health region has been created in the Engadin Samnaun Val Müstair holiday region. With us, guests can enjoy the fresh mountain air, relax in the great outdoors and take advantage of a wide range of health-promoting offers.